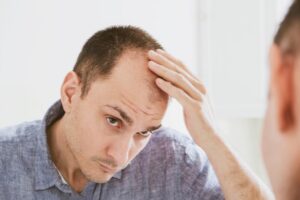 Modern approaches to hair restoration are considered much more advanced and effective than hair regrowth techniques of the past, giving men and women a wider range of options when it comes to combating their hair loss. Namely, Baltimore patients are now able to choose from both surgical and non-surgical procedures at JEV Plastic Surgery & Medical Aesthetics to catalyze the development of fuller, younger-looking hair. The main differences between surgical and non-surgical intervention include the level of invasiveness required by each treatment, the healing period after each procedure, and the quality of the final results.
Hair transplants and hairline lowering are two of the most well-known approaches to hair restoration surgery. The former procedure is designed to harvest good-quality hair follicles and transplant them into areas of sparsity, while the latter can balance facial proportions by lowering the natural hairline. While some healing is required after these surgical modalities, each treatment can provide more immediate and high-quality long-term results than minimally invasive technologies. The Follicular Unit Extraction (FUE) technique can even stimulate hair growth in balding areas without producing an obvious "hair plugs" scar. However, patients seeking hair transplantation are required to have adequate hair growth in the "donor sites," meaning individuals with depleted donor sites may not be good candidates for FUE hair restoration.
On the other hand, non-surgical hair restoration techniques, such as PRP hair regrowth and topical treatment with the minoxidil formula, can be ideal for individuals who may not be the best candidates for surgery. There is no serious downtime required with these treatments, and patients can often resume their normal routines right away. That said, those who opt for a non-surgical approach may have to wait relatively longer to see noticeable results when compared to patients who underwent surgery. A consultation with board-certified plastic surgeon Carrie Houssock, MD, FACS and our team can help you find an ideal treatment plan for your needs. Often, a combination of both surgical and non-surgical techniques provides the best possible results.
Hair loss can be a frustrating effect of the natural aging process, but that doesn't mean your days of having thicker, fuller hair are gone for good. Contact JEV Plastic Surgery & Medical Aesthetics to learn about the various approaches to hair restoration that may achieve your cosmetic goals.