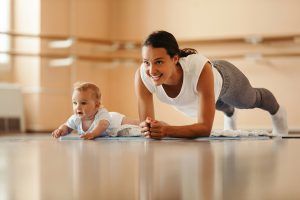 Pregnancy, childbirth, and breastfeeding can lead to lasting physical changes in the body's appearance that may not be sufficiently corrected with dieting, exercise, and other lifestyle changes. After having a child or multiple children, women commonly develop the following changes in their physique:
Drooping breasts/stretched breast skin
Loss of breast volume
Areas of stubborn excess fat
Excess abdominal skin
Stretched or torn abdominal muscles
Torn, protruding, or stretched labia
For many women, restoring the figure they desire after having children involves the help of an experienced plastic surgeon like Carrie Houssock, MD at JEV Plastic Surgery & Medical Aesthetics. Dr. Houssock can use a single procedure or combination of multiple procedures to achieve satisfying, potentially long-term improvements in the appearance of the breasts, body, and/or external female genitalia. When multiple procedures are recommended and included in a comprehensive surgical plan, it is often referred to as a mommy makeover. Procedures performed to enhance the physique during a mommy makeover may include:
Once the body stabilizes after child birth—usually this occurs after a minimum of six months postpartum—Dr. Houssock can meet with you during a personal consultation to discuss your concerns and goals, examine your body, review your medical history, discuss treatment options, and determine a customized treatment plan. Depending on the procedures included in your plan, your surgeon may recommend a phased approach or suggest a single operation during which multiple procedures can be completed. The majority of mommy makeover patients are thrilled with the beautiful, natural-looking results they are able to achieve with the help of our plastic surgeon.
If you are considering a mommy makeover to restore your pre-baby figure, please contact JEV Plastic Surgery & Medical Aesthetics to schedule a consultation with our experienced plastic surgeon.