In the 1950's hair transplants were first introduced into use as we know it today. The first transplants were large round grafts containing 8-12 hairs per graft and these were placed into large round holes in the scalp. This is now known as the "pluggy" transplant appearance. But in those days it was all that was available. On this page, we present options for correcting previous transplants in need of repair. This is a sub specialty for Dr. Carrie Houssock and she has had extensive experience with these difficult problems. She is particularly well qualified and experienced for this type of repair surgery because of her training as a plastic surgeon.
Plug Reduction and Recycling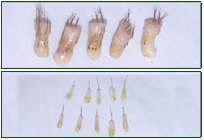 In this technique the large round hair plugs are reduced by approximately 80-90% and the removed hair plug is recycled into follicular units. These (recycled) hairs, now small and natural appearing grafts, are placed at the hairline to soften the appearance. The reduction of the plug also greatly contributes to the softer and more natural appearance.
Recycling of the hair plug is essential because there is a shortage of donor hair and every follicle that is usable must be re-used. Recycling the hair also decreases the amount of hair needed for harvesting from the donor area (i.e. back of the head)
No matter which option is chosen, the patient must be realistic about what can be achieved and be aware that several procedures may be needed to achieve optimal results. Your surgeon will spend time explaining the options and details about which procedure is best for you as well as the goals, likelihood of success, alternatives and risks.