What is Follicular Unit Extraction (FUE)?
Follicular Unit Extraction (FUE) is a relatively new hair loss surgery technique that involves individual removal of follicular units from the donor site. The technique is essentially a process in which a 0.8 – 1.0 mm round donor harvest tool is used to individually extract entire intact follicular units, which regulate hair growth. From there, the follicles are transplanted into the balding area of the scalp, eyebrows, beard, or elsewhere on the body.
Our plastic surgeon, Carrie Houssock, MD, FACS, offers this surgical option as an updated alternative to the traditional strip harvest method, which involves the removal and redistribution of hair from a single donor site on the back of the head. When performed by a qualified surgeon, both FUE and the strip harvest method can be excellent options and provide natural-looking and long-lasting effects. Read on for more information about FUE, and feel free to schedule a consultation with Dr. Houssock to determine the best hair restoration treatment for your needs.
Who Is a Candidate for FUE?
The ideal candidate for FUE will have balding or thinning hair due to age or genetics. They may also wish to replenish hair in the eyebrows or beard. Candidates should be in good overall health and have realistic expectations for the outcome of surgery.
Those suffering from temporary hair loss (e.g. due to stress or as a side effect of certain medications) or whose hair loss is in its earliest stages may be better suited for a non-surgical hair restoration treatment, such as PRP and ACell® injection therapy.
There are also patients who require a very small number of transplants and FUE may be ideally suited for their needs. On the other end of the spectrum, some patients have been severely donor-depleted or have very "tight" scalps as a result of over-harvesting using the strip method. FUE to selected areas of the scalp, and even the beard, offers a terrific alternative for these patients as well.
Your individual consultation with Dr. Houssock will be the best opportunity for a detailed discussion to determine if FUE, the strip harvest method, or another procedure is right for you. We encourage you to schedule an initial consultation with Dr. Houssock today.
What Does the FUE Procedure Entail?
After patients have been deemed eligible for FUE, Dr. Houssock typically recommends that they shave or trim their hair to prepare the scalp for surgery. On the day of the procedure, the patient will lie facedown and be administered a local anesthetic. Dr. Houssock will then meticulously extract each follicular unit from the donor site, as illustrated in the photos below.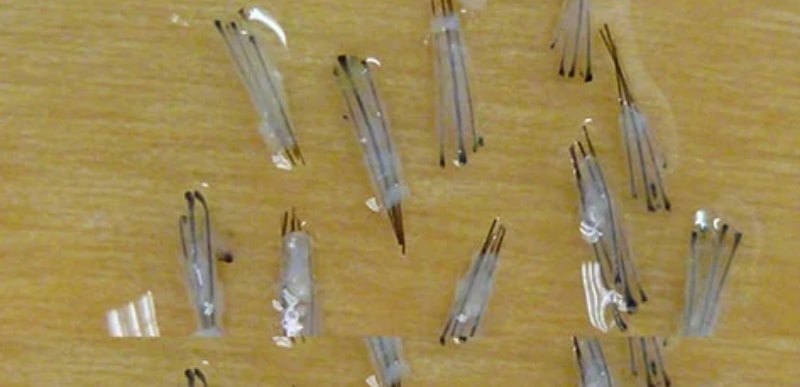 Note the appearance of the grafts that are harvested using follicular unit extraction. The grafts are intact and the supportive fat and surrounding tissue is remarkably preserved, even though a 0.8 mm round harvest tool has been used. In situations that require fewer than three to four hairs per follicular unit, these follicular units can be subdivided for a softer, more delicate result.
Before And After
Below is an example of a large-session FUE harvest and the excellent subsequent healing. This patient chose FUE as his primary donor option even though strip harvesting was offered as well.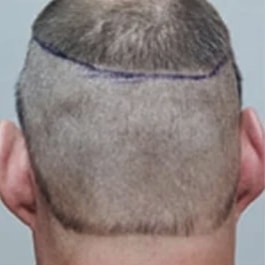 Before Procedure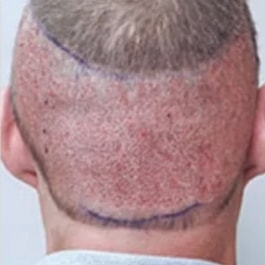 During Procedure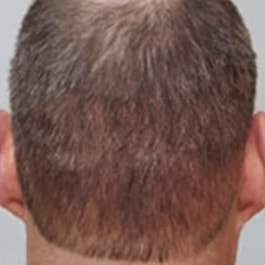 2 Weeks After Procedure
These photos show the appearance of the "stealth" FUE donor harvest technique. A discreet area of the donor scalp is shaved and harvested. Once the FUE process is complete, the donor hair above completely covers the surgical area.
The important thing to remember is that the FUE process only refers to the donor area. Once the grafts are harvested, the transplant procedure is identical in all ways to the strip donor harvest method. Namely, individual small follicular unit grafts are placed artistically to create a natural hair line and larger follicular unit grafts are placed behind these to create more density. When the crown area is grafted, the same angulation of grafts is performed to create the whorl pattern and provide excellent coverage. The FUE process is simply another method of harvesting the donor hair!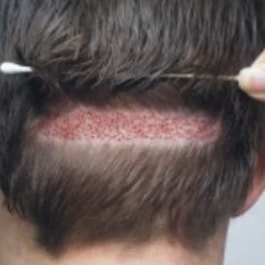 Day of Procedure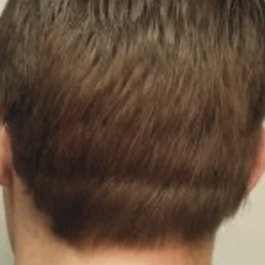 Day of Procedure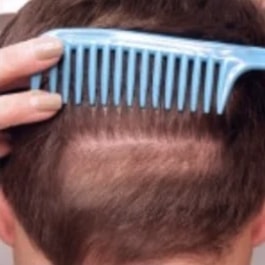 2 Weeks After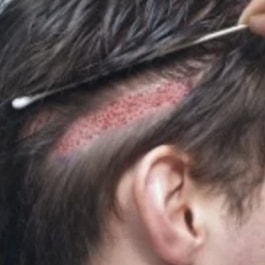 Day of Procedure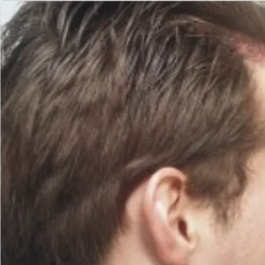 Day of Procedure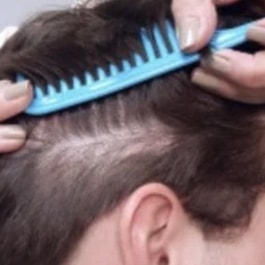 2 Weeks After