Pregnancy, childbirth, and aging can cause significant changes in the appearance of a woman's body—changes which are not always reversible with dieting and exercise. Stubborn fat, excess skin, loose abdominal musculature, and drooping breasts are just some of the reasons many women seek the expertise of our plastic surgeon. With a customized mommy makeover, Carrie Houssock, MD, FACS can help you regain the smoother, leaner, more lifted contours of your pre-baby body, as well as a more youthful-looking face. By combining multiple surgical procedures and/or cosmetic treatments into a mommy makeover plan, it is possible to rejuvenate the body, breasts, and face for enhanced confidence and a younger look.
For more information about the mommy makeover process, we welcome you to explore the sections below or contact our office today to schedule a consultation with our experienced plastic surgeon.
What is a Mommy Makeover?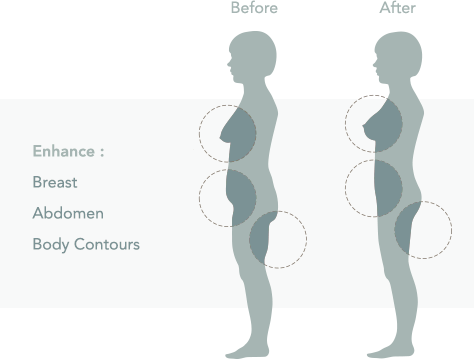 A mommy makeover is a cosmetic treatment plan designed to address specific aesthetic concerns caused by a combination of pregnancy, childbirth, and aging. Typically, a mommy makeover is custom-tailored to enhance the breasts, abdomen, and body contours for a youthful look that more closely resembles one's pre-baby appearance. If desired, it can also include treatments for the face and sensitive feminine areas for even more comprehensive rejuvenation.
Dr. Houssock personalizes mommy makeovers to suit the specific needs and goals of each individual. For some patients, the mommy makeover can be performed within the span of a single operation, while others may receive treatment in phases.
Who is a Candidate for a Mommy Makeover?
Potential candidates for the mommy makeover procedure are women in good health who are interested in plastic surgery and cosmetic treatments that can target the apparent effects of pregnancy and childbearing. Weight fluctuations, breastfeeding, the birthing process, hormonal changes, sleep deprivation, and aging that occurs during motherhood can be responsible for:
Areas of stubborn fat and cellulite that are resistant to dieting and exercise
Loose, excess skin
Sagging breasts with depleted volume
Enlarged and/or drooping nipples
Stretched and/or torn abdominal muscles
Protruding lower abdomen
Changes in the structure and appearance of the labia majora and labia minora
Facial wrinkles, hyperpigmentation, and other visible signs of facial/skin aging
Though it is possible to become pregnant and have children safely after plastic surgery (see more on pregnancy and plastic surgery), a mommy makeover is ideally performed once you have finished having children due to the fact that an additional pregnancy may undermine the results achieved. That said, the dramatic improvements gained with the initial procedure(s) are not always reversed by another pregnancy, and many women are still very pleased with their outcome.
If you are experiencing any of the issues listed above and would like to discover how Dr. Houssock can help by developing a customized mommy makeover treatment plan, we encourage you to contact our practice to schedule a consultation. During your visit, you will have the opportunity to share your cosmetic concerns, discuss the goals you would like to achieve, and learn about the procedures that are available. Your surgeon will perform a physical examination, review your medical history, and assess which surgical and non-surgical options can best meet your mommy makeover expectations. Some procedures can be performed during a single operation, which can save you money and consolidate your recovery time. In other instances, surgeries and/or treatments may be performed in phases or in a series, both for your safety and the achievement of optimal results.
What Are My Options for a Mommy Makeover?
At our practice, Dr. Houssock offers the full spectrum of mommy makeover options for the body, breasts, and face. Below, we have detailed the most popular treatments our patients choose to rejuvenate their appearance.
Ultimately, the right procedures and treatments for you will depend on a variety of factors that are considered during your consultation. Schedule an appointment with Dr. Houssock to get started on your custom mommy makeover treatment plan!
Will I Have Scars After My Mommy Makeover?
The degree of visible scarring you have after a mommy makeover depends on the specific procedures that were performed. In all cases, Dr. Houssock does her best to ensure incisions are placed in areas that are hidden within natural borders and creases, or can be concealed with clothing or a bathing suit. To minimize the prominence of scar tissue, it is important to:
Care for your incisions properly and make sure dressings are kept clean and changed frequently.
Eat nutritious foods, drink plenty of water, and ensure proper circulation to support your body's healing processes.
Take your antibiotics as prescribed to reduce the possibility of developing an infection.
Keep your incisions and scars out of the sunlight, as UV rays can darken their appearance.
Be patient—incisions take time to heal and scar tissue takes time to mature. Incision lines and scars may appear reddish and raised at first; however, as the tissue matures, scarring should flatten and fade in color.
In addition to these tips, laser treatments and microneedling can also be effective for diminishing the appearance of surgical scars, if desired.
Even though you may be left with some scars, the majority of our patients agree that a little bit of scar tissue is a small price to pay for the incredible physical and emotional improvements they have achieved through their mommy makeover. If you are curious about what our patients' scars look like, we invite you to browse through our plastic surgery before-and-after photos to see the results of specific procedures.
How Much Does a Mommy Makeover Cost?
There is no typical average cost for a mommy makeover. Mommy makeover pricing can vary widely between patients based on the types of procedures that are performed, how many procedures can be combined into a single operation, and the specific details of each treatment plan.
If you want to learn more about general pricing for procedures at our practice, we have listed many estimated price ranges on our plastic surgery costs page, and we also include cost sections on most of our dedicated procedure and treatment pages. For an accurate price quote based on your customized mommy makeover treatment plan, it is necessary to follow through with a consultation. When your consultation is complete, you will be presented with a detailed estimate that includes all fees and pricing associated with your treatment. At this time, you can discuss payment options, scheduling, and plastic surgery financing options with one of our knowledgeable office team members. In an effort to make plastic surgery accessible to a broader range of patients, we offer financing through several third-party lenders. Qualified applicants can take advantage of payment plans and affordable loans designed to make paying for treatment as budget friendly as possible.
Book Your Mommy Makeover Consultation
If you are considering a mommy makeover and want to learn more about how you can transform your post-baby body with plastic surgery, we invite you to contact our practice to schedule your personal consultation with Dr. Houssock.