The most exciting recent development in wrinkle treatment is the growing line of wrinkle fillers. Now, with a half hour skin care treatment in our comfortable office, you can reduce the appearance of wrinkles and restore volume to enhance your skin's youthful, natural appearance.
We are pleased to offer the latest wrinkle injections available, including Restylane®, RADIESSE®, and JUVÉDERM™. All of these fillers use hyaluronic acid or hydroxy apatite, natural substances that exist in all human tissues, to help plump and smooth moderate to severe wrinkles in just minutes. Unlike the earlier collagen fillers, these newer injectables won't cause an allergic reaction and do not require skin testing. That means you can have enviable results without the wait.
Instantly Smooth Away Smile Lines With JUVÉDERM®

The makers of BOTOX® Cosmetic now offer their own FDA-approved injectable wrinkle filler, called JUVÉDERM™. Made of injectable gel that contains hyaluronic acid, it's the first injectable to have a smooth gel-like consistency, and the first to be found safe and effective for people of color. We're pleased to offer this new injectable filler to our patients.
This latest generation filler produces immediate results and lasts up to six months.
JUVÉDERM® Ultra XC – Obtain a Youthful Appearance with Lasting Results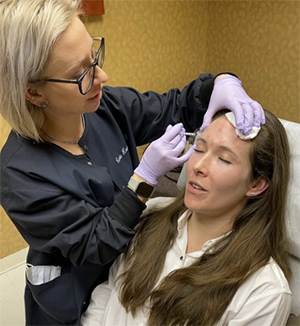 With JUVÉDERM® Ultra XC, you can enjoy the same great benefits of JUVÉDERM®, but with results that typically last longer. JUVÉDERM® Ultra XC is specially formulated with lidocaine, as well, so patients can be more comfortable during treatment. Most patients experience results that last up to about a year, creating a smoother, fuller, more youthful appearance that can last.
Similar to JUVÉDERM® and JUVÉDERM® Ultra XC, JUVÉDERM® Ultra Plus XC is a hyaluronic acid-based filler that can smooth fine lines and wrinkles and create a subtle lift to treated areas. However, JUVÉDERM® Ultra Plus XC has a unique consistency that allows it to treat deeper, stubborn lines more effectively than other JUVÉDERM® products. Results can typically last up to a year. Containing lidocaine, this injectable dermal filler can offer a more comfortable treatment, as well.
JUVÉDERM VOLUMA™ XC Can Give Your Cheeks a Lift
As the only cosmetic injectable that is FDA-approved specifically for augmenting the cheeks and midface, JUVÉDERM VOLUMA™ XC can help restore volume and create a refreshed and youthful appearance to your face. Adding fullness to the cheeks with JUVÉDERM VOLUMA™ XC also has an added benefit of reducing any wrinkles in the midface area. Patients should begin to see results immediately after treatment, and can enjoy fuller, more contoured cheeks for up to two years.
Sculptra® Aesthetic

With results that can last for a remarkable 2-5 years, Sculptra® Aesthetic can help you to restore fullness to your face for a revitalized look. Although results from this FDA-approved injectable might not be immediately evident, you should notice gradual improvement over time. Designed to stimulate collagen production in targeted areas, Sculptra® Aesthetic is ideal for improving volume where the face might appear hollow as a result of the aging process. As the collagen begins to regrow, the treatment area will appear fuller, and wrinkles will consequently be smoothed.
What to Expect During Your Appointment for Injectable Wrinkle Fillers
During your skin care treatment, you can relax in our comfortable, meticulously clean surroundings while enjoying a complimentary beverage.
All of the injectable treatments involve using a tiny needle to inject small amounts of fillers. You may choose to have the affected area numbed with anesthetic to minimize any discomfort. The procedure itself takes only a few minutes, and your entire visit usually takes about half an hour. Following the procedure, one of our skilled, experienced registered nurses will apply an ice compress to cool your skin and reduce swelling. If you wish, we'll assist you with your make-up following the procedure. You'll see results and be able to resume normal activities immediately.
Potential Side Effects of Wrinkle Fillers
All injectable treatments may cause mild side effects, such as irritation, swelling, itching, bruising, or tenderness at the injection site. While allergic reactions are extremely uncommon and usually resolve in a few days without intervention, the staff at our office is always available to answer your skin care questions or assist you. You should avoid sunbathing and outdoor activities in the cold until any redness or swelling disappears.
To learn more about wrinkle and other skin care treatments, contact JEV Plastic Surgery & Medical Aesthetics.