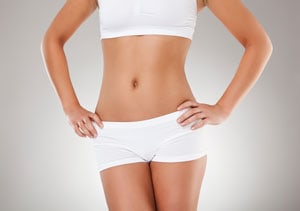 When fat cells are removed from the body via liposuction, they are permanently unable to continue proliferating in the body. However, this does not mean that you will not be able to gain weight after undergoing liposuction. While there will be fewer living fat cells in your body after surgery, the remaining fat cells can potentially grow in size with excessive caloric intake. To maintain the results achieved with liposuction, it is vital that patients follow a healthy diet and exercise routine to maintain a stable weight and prevent weight gain.
During your consultation with our plastic surgeon Carrie Houssock, MD, she will help you gain a full understanding of the capabilities and limitations of liposuction. Ensuring that her liposuction patients have realistic expectations of the procedure is of paramount importance to Dr. Houssock. She emphasizes that, while liposuction can remove stubborn fat deposits that may be resistant to changes in diet and exercise, patients must be careful to protect the results they achieve with liposuction. It is important to note that most individuals find it significantly easier to maintain a stable weight than it is to lose weight, which often makes liposuction an appealing component to integrate into a long-term strategy for achieving a more slender physique. The majority of Dr. Houssock's liposuction patients who are mindful of their food consumption and fitness levels are able to enjoy the results of their procedure long into the future.
Contact Us
For more information about Liposuction, or to schedule an appointment, please contact us today.