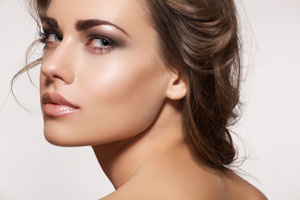 As the skin, musculature, and soft tissues of the forehead age, you may begin to notice that you look older or more tired than you actually feel. Increasingly, gravity and overactive facial muscles may have a more profound effect on the appearance of your brow line and forehead, causing the following cosmetic concerns to develop:
Wrinkles and deep creases along the forehead
Furrows between the brows
Drooping of the brow line and upper eyelids
Loss of natural eyebrow arch
Patients who come to the practice of Dr. Carrie A. Houssock with aesthetic issues like these may have a couple of solutions for achieving a smoother forehead and more elevated brow line. Dr. Houssock offers both surgical and non-surgical brow lift options designed to treat varying degrees of facial aging.
Non-Surgical Brow Lift
Non-surgical brow lift uses a combination of wrinkle reducers, such as BOTOX® Cosmetic and Dysport™, to rejuvenate the appearance of the forehead and brow line. Dr. Houssock can utilize the right balance of cosmetic injectables to smooth and relax mild to moderate forehead wrinkles, as well as diminish furrows between the brows. The effects of these injectable treatments are not permanent and do require reinjection to maintain results. If desired, IPL skin rejuvenation therapy can often be employed to improve skin quality and appearance.
Surgical Brow Lift
Some individuals experiencing skin laxity may not be good candidates for the non-surgical browlift and would likely be better served by undergoing a surgical brow lift. Surgical brow lift provides the most extensive degree of improvement and longest-lasting results when compared to non-surgical methods. In addition to reducing the appearance of lines and wrinkles on the forehead and brow, brow lift surgery can accomplish significant enhancement in patients with moderate to severe skin laxity. During brow lift surgery, Dr. Houssock is able to re-elevate the brow line to a more youthful position as she smoothes the forehead and eliminates moderate to significant amounts of excess skin. Following a surgical brow lift, there may be some initial swelling and/or bruising, but these symptoms should resolve relatively quickly for most individuals.
The first step in finding out which procedure is right for you is scheduling a consultation with Dr. Houssock. During your appointment, she will closely examine your cosmetic concerns and provide you with suggestions for how to achieve the results you desire.
Contact Us
For more information about Surgical and Nonsurgical Brow Lift Options, or to schedule an appointment, please contact us today.