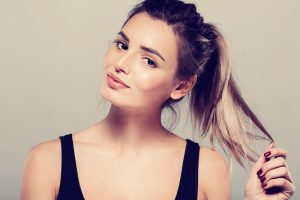 For some men and women with a naturally high hairline, the proportion of the forehead in relation to the rest of their facial features can cause a feeling of self-consciousness. Though certain hairstyles can be used to try and reduce the prominence of the forehead, these men and women often still feel unhappy with their appearance. To address this concern, we offer our patients a hairline lowering procedure that can improve your overall facial symmetry and boost your self-esteem.
Patients with a high or receding hairline can often achieve their desired aesthetic with hairline lowering, which is sometimes referred to as forehead reduction. As with any of our facial procedures, you will undergo a physical exam during the consultation process. Along with reviewing your medical history and your expectations, this consultation will help determine if you are a good candidate for the procedure. Ideal candidates for hairline lowering should have sufficient skin laxity along the scalp to perform the procedure, and also be accepting of the possibility of potential scarring.
During the hairline lowering procedure, an incision is made along the natural hairline and excess skin is removed from the forehead, which typically lowers the hairline by 1/2 to 1 inch. Though the incision is carefully placed to be concealed by your hair, a scar along the hairline may be visible. Some of our patients opt to undergo a follow-up hair transplant procedure to further reduce the size of the forehead and cover this scar. During the consultation process, you will be well-informed of all of your options so you can make an educated decision. With an experienced plastic surgeon, hairline lowering can achieve very natural looking results.
Contact Us
For more information about hairline lowering, or to schedule an appointment, please contact us today.