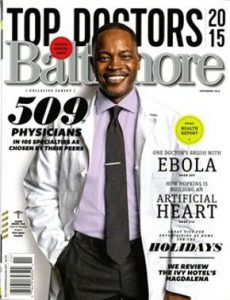 For the fifth year in a row, Dr. James E. Vogel has been recognized as a "Top Doc" in Baltimore Magazine. Year after year since 2010, Dr. Vogel has received this prestigious honor, solidifying his status as a trusted Baltimore doctor at the leading edge of plastic surgery and hair restoration.
Baltimore Magazine has compiled the "Top Doctors" list for almost 30 years and has gained status among readers as one of the most reliable resources for choosing a physician in Baltimore. The "Top Docs" list is heralded as a directory of doctors chosen by their peers as physicians they'd trust to care for their own family members. The selection process for the "Top Doctors" involves survey data from thousands of medical professionals in the Baltimore area. Participants are asked to provide the names of the doctors they believe to be at the pinnacle of almost 100 different medical specialties.
Dr. Vogel is dedicated to delivering the highest level of patient care and achieving natural-looking results for his plastic surgery and hair restoration patients. As a respected educator and innovator in his field, Dr. Vogel is always making strides to advance his craft and help his fellow surgeons do the same. Dr. Vogel is incredibly honored to once again be named as one of Baltimore's finest doctors and he looks forward to continuing to provide his patients with the award-winning care he is known for.