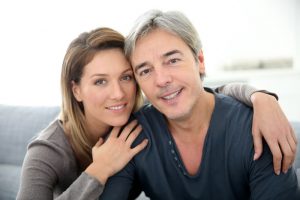 Whether you are a man or a woman dealing with hair loss, hair transplants performed by Dr. James E. Vogel are designed to look natural and realistic. Dr. Vogel customizes each hair transplantation procedure to address the unique needs and goals of each patient. Because he utilizes what are considered to be the most advanced techniques for hair restoration, Dr. Vogel can achieve realistic fullness in thinning areas and restore a natural-looking, more youthful hairline.
Hair Transplant Techniques for Natural-Looking Results
Hair transplantation methods of the past used hair grafts that were, in many cases, too large or too thick to appear natural. Through modern surgical advancements, Dr. Vogel is able to harvest healthy hairs either singularly (Follicular Unit Extraction, called FUE), or via strip method and transplant single follicular units of hair. These micro-grafting techniques can allow him to replicate varying thicknesses of hair distribution and create soft, blended hairlines. Follicular unit extraction and transplantation procedures have revolutionized hair restoration surgery, giving surgeons the enhanced creative freedom and versatility to develop highly customized, natural-looking hair transplant solutions that can resolve both men's and women's hair loss issues. In some cases, micro-grafts are transplanted in combination with larger grafts to provide coverage and density that may not be as easily achieved with all-over single unit transplantation.
The Art of Hair Transplant Surgery
Along with technical knowledge and extensive experience, there is a certain amount of artistry involved in successful hair transplantation. Understanding the importance of symmetry, the natural growth patterns of hair, and which transplant techniques should be applied in what measures are the components that can ultimately yield an aesthetically pleasing result. As a highly regarded leader and educator in the field of hair transplant and plastic surgery, Dr. James Vogel possesses the unique skill-set and talent to provide his patients with the natural-looking results they desire from hair transplant surgery. Dr. Vogel's extensive experience also uniquely qualifies him to correct previous hair transplant surgery that may have delivered subpar results.
For more information about hair transplant procedures and to find out if Dr. Vogel can help you achieve natural-looking hair restoration results, contact our practice to schedule a consultation.