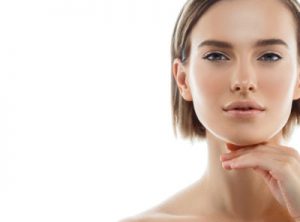 Cosmetic injectable treatments have quickly become one of the most popular methods for non-surgical facial rejuvenation at our Baltimore plastic surgery practice. The natural-looking results, quick treatment sessions, and absence of downtime associated with wrinkle relaxers like BOTOX® Cosmetic and Dysport® and dermal fillers such as JUVÉDERM® and Restylane® make these treatments very appealing to a broad range of patients. While the cosmetic effects of these products are not permanent, they fade gradually with time, making customized re-treatment schedules easy to develop for long-term sustainment of results.
When considering cosmetic injectable treatments, it is important to understand the differences between wrinkle relaxing products, like BOTOX® Cosmetic, and dermal fillers that add volume:
To smooth wrinkles for up to about four months or longer, the active ingredient in BOTOX® Cosmetic relaxes muscles that cause the appearance of wrinkles. Without these facial muscles contracting, wrinkles and creases soften and, in many cases, disappear until another treatment becomes necessary. BOTOX® Cosmetic is injected into specific muscle groups based on your unique needs and aesthetic goals.
Dermal fillers provide injectable volume enhancement in a wide variety of formulations, many of which are hyaluronic acid-based (a naturally-occurring substance in the skin). Most commonly, fillers are used to replace diminished tissue volume and fill wrinkles/creases for a more youthful-looking facial appearance; however, they are also a popular method for enhancing facial contours and plumping the lips to further accentuate natural beauty. The longevity of dermal filler results depends on the specific product used—while some fillers may last for about six months, others can last for up to 18 to 24 months. The filler that is right for you will depend on the condition of your skin, your cosmetic goals, targeted treatment areas, budget, and other factors. All of this important information is covered during your consultation with Dr. Houssock.
Do you have questions about BOTOX® Cosmetic and dermal fillers? Contact our practice to schedule a consultation with our experienced plastic surgeon and learn how injectables can benefit your appearance.