The latest non-surgical treatment for thinning hair and hair loss combines Platelet Rich Plasma (PRP) and ACell® MatriStem® matrix. These activating components are combined to form a potent series of microinjections to stimulate, strengthen, and restore miniaturized hair follicles. Our hair restoration surgeon, Carrie A. Houssock, MD, FACS believes this effective injectable therapy has shown tremendous potential among well-qualified patients experiencing both genetic and non-hereditary types of hair loss. She is enthusiastic about offering this quick, minimally-invasive treatment to help male and female patients who want to prevent hair loss and regrow hair.
How is PRP and ACell® Injection Therapy Performed?
Once you and your surgeon have decided to move forward with PRP and ACell® injection therapy, you can schedule your session. On the day of your treatment, a sample of your blood will be collected and centrifuged to extract the PRP, which is then combined with powdered ACell®. Your surgeon will carefully inject the PRP and ACell® into designated areas of the scalp at a precise depth beneath the skin where it can be most beneficial to the follicles. Treatment typically takes about 60 minutes, and you can usually resume your workday or regular activities right after your session. A cooling machine is used for comfort and we do offer nitrous oxide supplementation in the event of extreme sensitivity.
So the immediate benefits of this quick procedure are:
Minimally-invasive and generally well-tolerated
Recovery is usually swift and easily manageable
Treatment takes approximately 60 minutes
Most patients can return to work or regular activities right after treatment
Combining PRP and ACell® Injection Therapy with Hair Transplant Surgery
For hair transplant surgery patients, our surgeon very often recommends supplementing the procedure with PRP and ACell® injection therapy to help maintain native hairs. Ideally, PRP and ACell® injection therapy prevents further loss of non-transplanted hairs, strengthens hair follicles, and encourages new growth. The combination of PRP and ACell® therapy and hair transplantation can provide patients with more comprehensive improvement in the overall appearance of their hair, and assists in preserving the quality of results. It also has the added benefit of fostering growing transplant follicles in the early stages of growth.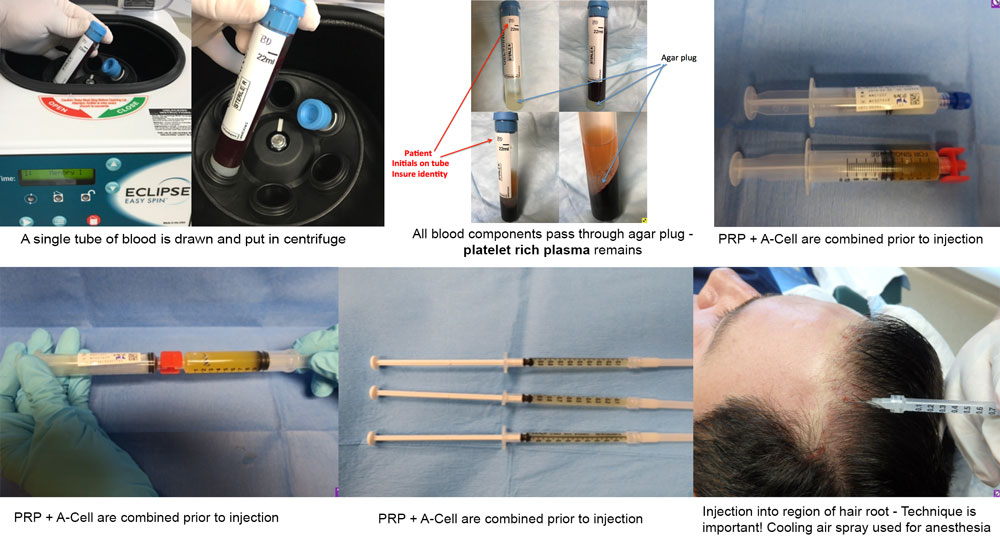 How Much Does PRP and ACell® Injection Therapy Cost?
The average price for PRP and ACell® therapy sessions at our practice can cost between $1200 and $1800 each. The exact expense is determined by the size of the treatment area and the amount of PRP and ACell® that is injected during the session. Our use of ACell® matrix in this treatment does add to the cost, but it is important to understand that the inclusion of ACell® improves the effectiveness of the PRP in our experience. It is common for patients to undergo more than one treatment session to achieve optimal results. Generally, our protocol for patients is three sessions over eight months, with biannual or annual maintenance as needed.
If you are interested in exploring financing options that can make paying for PRP and ACell® injection therapy more convenient and affordable, we encourage you to speak with a knowledgeable member of our office team. Based on the amount of your cost quotation, you can submit applications for financing from the trusted third-party lenders we partner with: CareCredit®, ALPHAEON™ CREDIT, and Blispay. Qualified applicants can benefit from a variety of low-interest/no-interest loans and flexible monthly payment structures.
Contact JEV Plastic Surgery & Medical Aesthetics
If you are interested in PRP and ACell® injection therapy to slow your hair loss and regrow hair, we recommend that you contact our office to schedule a consultation.