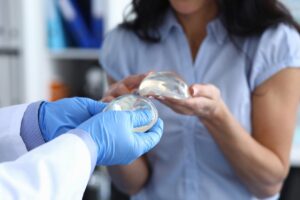 When breast augmentation is performed by an experienced plastic surgeon, the results can be a fuller and more shapely bust that looks natural and dramatically enhances a patient's self-confidence. Versatile and customizable, this popular procedure can help many women achieve the proportions they desire. What's more, high-quality breast implants can last for decades when cared for properly and examined by a professional from time to time after placement.
The majority of our patients at JEV Plastic Surgery & Medical Aesthetics are thrilled with their breast implants; however, we advise patients never to undergo plastic surgery without thorough consideration and research. For example, our board-certified plastic surgeon, Carrie A. Houssock, MD, FACS, advises you to take the following factors into account before you get breast implants:
Breast implants are not permanent.
While sturdy, well-made silicone and saline implants often last for years, they are not designed to last forever. Dr. Houssock recommends patients have their implants occasionally examined for possible ruptures, leaks, or other issues that may or may not be creating any noticeable symptoms.
Final breast augmentation results often do not show up immediately.
Breast augmentation surgery requires a recovery period of at least a few days, but results typically take even longer to appear due to post-operative swelling. This swelling, however, should subside in the weeks and months following surgery, and your shapely new breasts should gradually become more noticeable.
No two patients are alike.
In other words, as Dr. Houssock personalizes the course of each surgery to suit your aesthetic goals, your breast enhancement experience is liable to differ greatly from that of the next patient. During an initial consultation with Dr. Houssock, the two of you will decide between silicone and saline implants; the placement of the implants above (subglandular) or below (subpectoral) the pectoralis muscle; the techniques being used; the location for incisions; and other variables which can make your surgery distinct from others.
Implants have no effect on ptosis (breast sagginess).
Patients sometimes confuse breast augmentation with breast lift surgery; alternatively, they may believe that breast augmentation surgery will provide an automatic "lifted" effect. While it is not true that augmentation comes with an inherent lift, Dr. Houssock can combine the two procedures in a breast lift with implants surgery for optimal breast enhancement.
Choosing the right provider is essential.
In most cases, the difference between a successful breast augmentation surgery and an unsuccessful one depends on the experience, certification, and competence of the provider. As such, it is often recommended that your surgeon is certified by the American Board of Plastic Surgery (ABPS). This qualification signifies that a surgeon has gone well beyond the basic requirements to practice plastic surgery and has extensive experience performing these types of procedures. It can also be helpful to explore a surgeon's past breast augmentation results and patient testimonials for a sense of their work and bedside manner.
For more information about breast implants or to schedule a consultation with Dr. Houssock, contact JEV Plastic Surgery & Medical Aesthetics today.