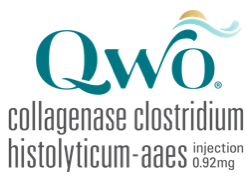 A new treatment for cellulite is available, and it is genuinely one of the most innovative and advanced options to come along in quite some time. QWO® is an injectable solution approved by the U.S. Food and Drug Administration for the treatment of buttock cellulite in adult women. It is completely non-surgical and only requires a series of injections to reduce signs of cellulite and produce a smoother appearance in the skin. At JEV Plastic Surgery and Medical Aesthetics, our board-certified plastic surgeon, Dr. Carrie Houssock, and her experienced team of aesthetic professionals are excited to offer this new treatment for cellulite that can effectively address this very common concern for many patients.
What is QWO®?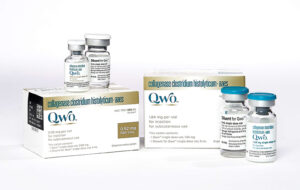 QWO® is an injectable solution designed to help women diminish moderate to severe signs of skin depressions and "dimples" commonly associated with cellulite in buttock tissues. It is truly a one-of-a-kind procedure and is the first injectable treatment for cellulite to receive FDA approval.
Consisting of enzymes called "collagenases," the goal of the QWO® solution is to release the fibrous bands under the skin that may be pulling upper dermal layers down and creating the dimpled appearance. Additionally, the intention of QWO® is to redistribute fat cells in the targeted areas of skin and stimulate the production of new collagen. With this comprehensive approach, this treatment focuses on providing significant reduction in the telltale signs of cellulite and resulting in a much smoother look.
What Causes Cellulite?
Cellulite is typically caused by a combination of factors, which often include enlarged fat cells and the way fat is distributed, skin that is particularly thin, and genetic predisposition. Together, these conditions can produce a dimpled or "lumpy" appearance in the skin. Cellulite is formed when fibrous bands connecting outer skin layers with the underlying muscles begin to pull the skin layers down, creating tension points that are visible on the surface. Cellulite most commonly appears in the buttocks and the thighs, and it is more prevalent in women than men due to genetic differences in the way fat is distributed throughout the body.
During the initial consultation, we can help you determine whether QWO® or another cellulite reduction treatment, such as Endermologie®, is the best option for your needs. If QWO® injections are the most ideal treatment, we can develop a customized treatment plan designed to provide the best possible results.
What Does the QWO® Procedure Consist Of?
QWO® treatment is staged as a series of injections over three separate appointments to achieve optimal results. Each session is scheduled about three weeks apart. The QWO® solution is precisely injected into the areas of the buttocks where cellulite has developed. An additional benefit of QWO® treatment is that it does not typically require downtime following the procedure. The treatment usually takes about 10-15 minutes to complete, and most patients are able to resume their daily routines immediately.
What Are the Side Effects of QWO®?
Immediately following the injections, patients may experience some degree of swelling, redness, bruising, itching, and soreness in the treatment areas. These side effects should subside within a few days and they are typically not as prominent with subsequent QWO® treatment sessions.
What Results Can Be Expected from QWO®?
Results from QWO® cellulite reduction treatment typically begin to become visible within a month after the first appointment. The final, and most noticeable, results may take up to 10 weeks to be fully realized. While QWO® may not completely eliminate all signs of cellulite on the buttock tissues, it has proven to dramatically reduce the appearance of cellulite and give the skin a healthier and smoother look.
What is the Cost of QWO®?
The cost of a full series of QWO® injections typically starts at approximately $2,100 to $3,100 for a package of 3 at our practice. Please note that the total price can vary among patients depending on the customized treatment plan and factors such as the extent of treatment necessary for optimal results, whether other procedures are also being performed in combination, and other components. During your initial consultation, a member of our team will present a full cost estimate to you and answer any questions you may have. Our practice accepts a wide range of convenient payment methods, and we work with reputable financing agencies that offer qualified applicants a variety of budget-friendly ways to pay for their aesthetic enhancement procedures over time.
If you are experiencing cellulite and are considering treatment options for this common condition, please contact our practice today to schedule a consultation!