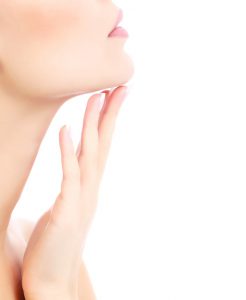 Our experienced plastic surgeon, Dr. Carrie A. Houssock, is excited to announce the addition of a revolutionary new procedure here at our practice. It's called Kybella™, and it is the first and only non-surgical treatment of its kind approved by the FDA to reduce stubborn excess fat accumulation under the chin. The appearance of a "double chin" is very common, and surgical procedures such as liposuction have traditionally been the most effective means of addressing it. Kybella™ offers a new alternative by utilizing an injectable solution to destroy excess fat cells under the chin and provide you with a more contoured facial aesthetic.
Genetics, the natural aging process, and weight fluctuation can all contribute to the accumulation of fat beneath the chin. This excess fat can be very difficult to eliminate, even with a healthy diet and regular exercise. Kybella™ can be a successful solution to a double chin, directly addressing the problem and resulting in an improved contour of the area. Benefits of the treatment include:
Significant reduction of excess fat under the chin
No surgery is required
The procedure can typically be performed as an outpatient in under 30 minutes
Little to no downtime is generally necessary
Results are often permanent
Most patients will be able to resume normal daily routines right after treatment with Kybella™. Some patients may need two to four treatment sessions to maximize results.
Please take a look at our page on Kybella™ to find out more about this innovative, non-surgical treatment. If you would like more information, or to schedule a consultation with Dr. Houssock, please contact us today.