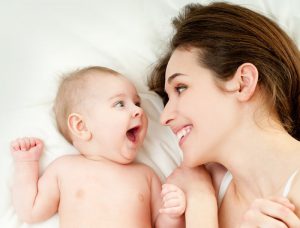 Some of the more common questions we receive here at the practice of Dr. Carrie A. Houssock involve the effects that pregnancy can have on breast augmentation results. Pregnancy affects each woman's physiology in a number of different ways, and some individuals may not have the same experiences as others. During pregnancy and/or breastfeeding, the breasts can become swollen and enlarged, or they can actually lose a certain amount of volume; however, breast implants often provide some level of resistance to the volume loss that is common while pregnant. With that in mind, factors such as the length of the breastfeeding period, the number of times you have been pregnant, weight fluctuation, heredity, skin laxity, and others will ultimately have an affect on the appearance of your breasts during and after pregnancy.
The shape, size, and texture of the breast skin can all be affected by pregnancy and breastfeeding. Unfortunately, it is difficult to predict the magnitude of those effects; however, the structure and integrity of the breast implants themselves should not be affected by pregnancy at all. If you are considering breast augmentation and having children later in life, Dr. Houssock can evaluate your needs and talk with you about your concerns. If you have already had children and are thinking about plastic surgery options to address the loss of breast volume, a sagging appearance to the breasts, or other common physical changes associated with pregnancy and breastfeeding, Dr. Houssock offers a number of advanced breast enhancement procedures that can renew your appearance and restore your pre-pregnancy figure.
Please contact us today with any questions you may have, or to schedule a consultation with Dr. Houssock.